Share
As we start to move into the fall season, the
winter sports come to life again. As you know, I
usually don't write about sports. But for the last
few months, I have been treating a few
professional athletes with acupuncture, deep
tissue work, and homeopathic medicine.
Alex is a professional in every sense of the word
– a great athlete and a warrior with a strong
sense of Bushido, a Japanese word for the
"way of the Samurai" or "way of the warrior".
Bushido is the code of moral principles which
the Samurai were required or instructed to
observe. It was an organic growth of decades and
centuries of military career. In order to become a
Samurai, this code has to be mastered.
Alex has been coming to the clinic 3 days a week,
doing core work with Mohay, acupuncture and
Medical Qi Gong with me, and going into the
cryo-therapy to cool down to 265 degrees below
zero for 3 minutes to get rid of any inflammation.
He has been on the ice since he was 3 years old as
his father played pro-hockey all over Europe for
more than 20 years. Hockey is a rough sport
indeed; I played a little when I was a boy in
Michigan, but as soon as one of my friends got his
front teeth knocked out, my mother retired me.
There are some real keys to be the best at your
game:
1. If everybody trains once a day, you train
twice.
2. If you want to be the best, work with a coach.
3. Diet is a huge factor in your health and
performance.
4. Be passionate about your sport, work, and your
relationships.
5. Try out new ways of training, coaching, and
alternative medicine.
Alex Galchenyuk has been playing the Canadians
since he was 18. He scored his first NHL goal on
January 22, 2013 against Scott Clemmensen of the
Florida Panthers, tipping in a shot from Brandon
Prust; rookie teammate Brendan Gallagher also
recorded his first NHL point, an assist.
Galchenyuk finished the season playing in all 48
games with nine goals, 18 assists for 27 points
and a plus-minus rating of +14, playing primarily
on the left wing of the third line. He finished in
the top ten in all three offensive categories
among rookies, and was sixth overall in rookie
points scoring, helping propel a resurgent
Canadian's team to the second-best record in the
Eastern Conference.
The quality that this young guy vibrated is
passion, power, and commitment. As you learn and
embody those qualities, your life will change and
the Bushido spirit will be with you forever.
Call my office at 305-407-0120 and sign up for the
Bushido treatment – acupuncture, chiropractic,
core training, and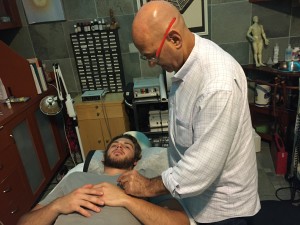 .
I wish you the best in your Health, Wealth, and
Happiness!
Dr. Wu Dhi