Unbelievable News!
Dear Friend,
I had a student contact me from Ukraine the other day with some real concerns. He was on a limited budget but really enjoyed reading my blogs and looking at Dr. Wu's videos on YouTube. He asked me so many questions that it would take this whole letter to answer them. Bottom line is-- he asked me, what programs he could buy that wouldn't break his bank account.
I really spent some time thinking about this and what I came up with is a package of three dynamic videos: Qi Organ Cleansing, The Healing Sounds, and The Belt Channels.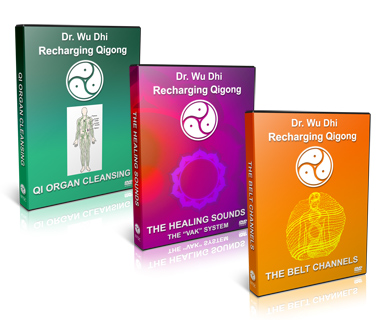 These teachings are the core work of Taiost healing and protection practices. I took great time and effort to change these programs from a DVD format so that they can be easily downloaded anywhere in the world at a click of a button.
1. The Qi Organ Cleansing will give you information and specific exercises to clear the five Yin organs; the heart, kidneys, liver, spleen, and lungs. You will learn prescriptive medical Qi Gong exercises to clear emotional blocks and toxins from the channels and pathways.
2. The Healing Sounds are a series of vibrational sounds that release stored emotions, toxic heat and blocked energy in your body, mind and spirit. These exercises are part of the Ancient longevity practices. They are prescribed to my patients and students to clear their physical organs of blocked energy and to alchemically change their negative emotions to positive healing vibrations.
3. The Belt Channels are a way of protecting yourself from negative and harmful energy. Believe it or not, people in general are not always sending you love, good wishes and their blessings all day long. Either consciously or unconsciously, people are sending us negative energy. You may feel it as stress or tension in your life. Learning and using the Belt Channels will protect you from any negative influence or vibration. In this video, you will learn how to protect yourself from these energies and strengthen your magnetic field.
I have put these 3 DVD's together in a special format for easy learning and instant access on your computer any time you want.

Here is what Vasiliy said when he downloaded this program:
"Thank you Dr. Wu for saving me the time and money! I didn't have to go though customs, pay postage or wait a few weeks before receiving your wonderful programs! In fact, I started practicing today and I am feeling wonderful! I hope you continue to make more of your programs accessible to me in this format. It's not easy to get these teachings here in Ukraine!"
Vasiliy B.
Dneprodzerzhinsk, Ukraine
These 3 DVD's are usually sold for more than $100 and they are delivered to your door within 2 weeks, but now you can receive all 3 DVD's with just one click on your computer for only $39.95!

Act now and enjoy your journey!
Best,

Dr. Wu Dhi