Feel Like You're Getting Sick...
Find Out How To Stop A Cold Before It Ruins Your Week
Vira-Qi is an herbal combination of three high-quality ingredients in clinically relevant dosages used to support the body's immune system and to promote its healthy response
to inflammation. The formula may provide support for healthy respiratory function. In TCM (Traditional Chinese Medicine), these three herbs are known to "clear heat."
Vira-Qi nutritionally supports immune health by providing an herbal combination of ingredients.
What it is for:

Qi Essentials Vira-Qi is an herbal formula providing immune support for:

Supports Immune Response
Supports a Healthy Response to Inflammation
Maintains and Supports Healthy Lung Tissue
Functions as a Fast-Acting Formula
Clears Heat
How it works:
Herbal combination of three high quality ingredients in clinically relevant dosages to support immune response and the body's natural response to inflammation. The formula may be particularly helpful to support healthy lung tissue. Each of the three herbs is known to "clear heat"
Andrographis Extract (standardized to 25% andrographalides) - The many uses of this Ayurvedic and TCM bitter herb are based upon the support that it gives the body to manage foreign microbes and to maintain a healthy body temperature.
Licorice Root Extract (standardized to 12% glycyrrhizin) (Glycyrrhiza uralensis) Medicinal use of licorice dates back to the 2 and 3rd centuries BC. Its properties are sweet and neutral. It is used in Vira-Qi for its wide variety of healthful, soothing properties that help maintain comfort in the presence of foreign microbes. Licorice root extract maintains healthy lung tissue and supports the adrenals. Glycyrrhizin is adaptogenic and has been shown to support the immune system by inducing interferon gamma and some other cytokines.
Isatis root (Isatis tinctoria) - This Brassica family member is a commonly used herb in TCM mainly for maintaining the health of the upper respiratory tract. Its properties are bitter and very cold.
Dosage and Directions
Take one capsule daily or as directed by your healthcare practitioner.
Caution: Individuals with hypertension concerns should consult their practitioner before using.
Here Is What Some Other Customers
Are Saying About Vira-Qi:
"Right before my 21st birthday party, I felt very gloomy, tired and weak. This is how I always feel before I come down with a cold or flu. I panicked and said 'this can't happen to me!!!' I asked Dr. Wu for help – to give me some sort of relief – any homeopathic medication. Dr. Wu gave me Vira-Qi and let me tell you, from that day on I live by this product. He told me that I have to take two pills, 3 times a day. Right away I took the first set of pills and a little while later I felt some relief. I finished the set and my feeling of a cold went away completely the next day!

Unbelievable right?

The reason I say that I live by this product is because the day before I had
something really important, the same feeling occurred only this time I was
really, and I mean really, sick! I got soaked in a rainstorm one day and a couple
days later I had a runny nose, sore throat and I was just really congested.
I wasn't home when I was experiencing these symptoms but the good thing is that
I kept these pills in my purse. Right away I took 3 pills to give it a stronger boost!
I felt relief soon after. I finished my set and was so thankful that a product like this exists!

I bought a bottle for my boyfriend, and some of my family members.
They are simply in love! If I see anyone who is sick I tell them about this product and
when they purchase it they keep thanking me every time they see me.

Vira-Qi is incredible!

It is like a miracle in a bottle!"

Nastia K.


---

"Last week I came to work feeling down, my nose was running, my body ached and I knew I was getting sick. I was thinking about taking an aspirin when I got home and one of the women in the office insisted that I get a bottle of Vira-Qi. I was hesitant to take anything that I never tried before but she insisted so I did. The very next day I felt much better! I felt relief and my body ache was gone."

Elisa Alfonso

---

Supplemental Facts
One Capsule Contains:
Andrographis Extract (25% andrographolides) 375 mg


Licorice Root Extract (12% glycyrrhizin) 165 mg


Isatis tinctoria 150 mg
Other Ingredients:HPMC (vegetable capsule), magnesium stearate, stearic acid.
DOES NOT CONTAIN:Wheat, gluten, corn protein, yeast, soy, animal or dairy products, artificial colors, sweeteners, or preservatives.
Vegetable Capsules
Suitable for Vegetarians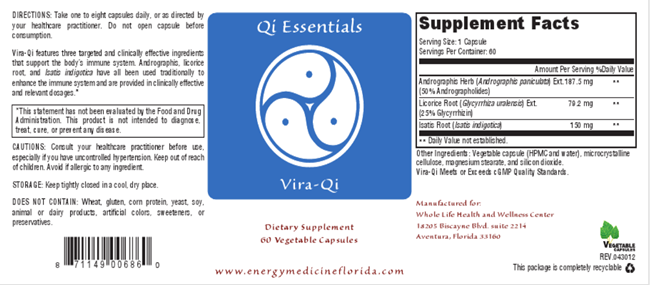 This information has not been evaluated by the Food and Drug Administration.
Neither the information, nor any formula(s) mentioned are intended to diagnose, treat, cure, or prevent any diseases.