Share
Massive Energy Source
I a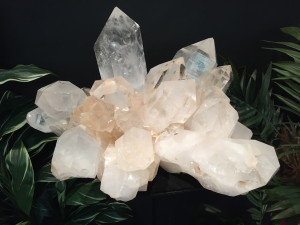 m at the Tucson Rock and Gem Show has done an
interesting thing to my internal energy. Every
mineral, rock, and gem puts out an energy field
that stimulates all animals. Did you ever notice
that a cow put out to pasture will lick certain
rocks or hang out near certain rock formations?
It's because minerals put out an energy. They say
crystals put out the highest vibration of all in
the mineral kingdom. What I noticed just walking
around Tucson is a very high concentration of
minerals, rocks, and gems. My meridians and
chakras have shifted to a much higher vibration.
My meditations are much deeper and so is my Qi
Gong practice.
I want to make a suggestion to you so that that
you, too, can increase your spiritual and psychic
awareness. Gather eight crystals of varying size,
shape, and color. Place them in a Ba Gua position.
One in front of you, one behind you… North, NE,
NW, South, SE, SW, East and West. Stand in the
middle of those eight crystals, and begin doing
five forms of Flying Crane Qi Gong. When you
finish the five movements, begin the automatic
move and do that for 36 minutes. You will notice a
profound shift in your energy field within the
hour. If, for some reason, you do not know Flying
Crane Qi Gong, get your copy today.
http://www.on2url.com/lnk?MTgyNDc0MXwxMzAzNDU3OTN8cz0x
I wish you the best in your Health, Wealth, and
Happiness!
Dr. Wu Dhi
P.S. Being in the mountains for the last week, my
view, physically and internally, has shifted. In
combination with exposure to rocks and minerals, I
will be sending you more energy and light. Stay
tuned.
Practice. Practice. Practice.