Share
The clinic I have in the heart of Aventura,
Florida is unique to this part of the world. Most
holistic health clinics are limited to only having
one or two different modalities, and often, the
doctor forgets to get the patient actively
involved in their healing process. In our clinic,
each patient has the opportunity to be totally
involved in his or her healing process, and take
an active role in staying healthy and reversing
the aging process.
The sharpness of the mind, the strength of the
body, and the clarity of the spirit are all
essential for health and vitality. I offer an
ongoing Qi Gong instruction and meditation classes
throughout the year that assist in the quicker
recovery of illnesses. Patients become students
and vice-versa. The Qi Gong classes work on three
different levels:
1.A powerful way to purge and cleanse the body of
stagnant Qi and emotions
2.Tonify the internal organs
3.Cultivation and strengthening of the body's Qi
and immunity
The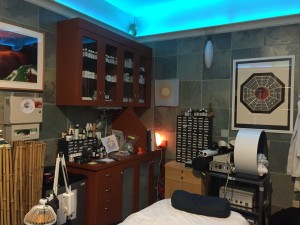 The meditation classes are based on the
14-chakra system to balance all of the spiritual
centers and cultivate Qi. All the treatments are
based upon the patient's particular imbalance with
a focus on determining and treating the root
cause, not just symptoms. In the treatment, we
will use a multi-level approach and many different
modalities like acupuncture, applied kinesiology,
Neuro-linguistic Programming (NLP), Postural
Integration (PI), joint and body manipulation,
Chinese or Western herbs, homeopathic medicine,
vitamin therapy, nutrition, and Neural and Segment
therapy to release blockages.
Yes, I have been studying most of my life and
working to do whatever it takes to free up those
blockages that we all have. If you get in one of
those places that we all do now and then, contact
me, and maybe we can find a way to get you out of
it without drugs or surgery.
I wish you the best in your Health, Wealth, and
Happiness!
Dr. Wu Dhi